What to wear for West Coast Swing dances and classes?
Clothes:
For classes, there's no need to dress up. You also don't need to wear jazz pants, tights, leotards, spandex, or any other type of formal "dance" attire. You can wear "normal" clothing, but make sure it's something comfortable that allows you to move.
Girls, for West Coast Swing we recommend pants as opposed to a skirt or dress. Pants tend to be the preferred style, although many women wear dresses or skirts as well.
Guys, we recommend full length pants as opposed to shorts . You can wear shorts if you'd like for the comfort - but they generally don't complement the look of the dance very well.
For dances, it's really your own personal style that matters, although you still want to wear something comfortable. West Coast Swing dancers tend to dress pretty much with typical trends in fairly casual clothing. Both guys and girls tend to wear jeans or sometimes dress slacks.
Shoes:
The most important factor for shoes is comfort. Sneakers are often fine for both guys and girls to take classes in, although if the soles are too sticky they may be difficult to spin in (one solution to this is to actually place strips of duct tape on the soles of your shoes for dancing).
Ladies - make sure you wear shoes with backs and that aren't going to fall off while you are dancing in them.
If you're serious about West Coast Swing we recommend investing in a pair of dance shoes.
A store we recommend checking out is World Tone Dance in Los Angeles. They have a huge selection in store that is even bigger than what they show online. Also, the studio in Garden Grove West Coast Swing Wednesdays is held at, DancesportCA carries the shoes we recommend for followers.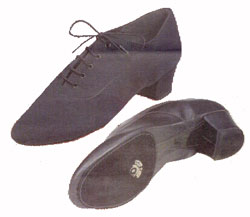 The typical West Coast Swing shoes for men are a latin practice shoe (usually in black) with a 1 or 1.5 in heel and a suede sole. Some brands to look for are International, Diamant, and Supadance.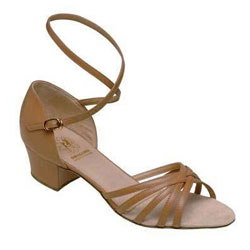 The tpyical West Coast Swing shoes for women are an open toed practice sandal (in black or tan) with a 1.5 in heel and a suede sole. Favorite brands are Stephanies, Comfort, and Supadance.